Thank you to everyone on the blog and on our Facebook feed for giving us feedback on our picks from CHA...when in doubt, always ask the customers and I did, and we're ready to go with more orders. We'll be sending out a newsletter and blog post of the products we're getting in soon. However, while checking everything out, I've noticed that there's a lot more companies jumping on that Project Life train and coming out with lines similar to Simple Stories with the album and all the different refills....flashcards, journaling cards etc. etc. etc.
So which lines to carry when they all seem to be doing the same thing?? Check them out here and let us know which ones you think stand out the most...pros and cons. I don't think pricing is an issue as they're creating these lines to be quite competitive with what's already being offered. Sometimes there's too much of one thing coming out in the new releases....is this one of those times? Not all the lines are carrying the same size albums. Some might be interchangeable...some might not be. I'm sure there's some I've missed and if I did, please include it in your comments and I'll seek out some more information to add on here.
Please note:: Some of these companies haven't updated their websites because CHA is ending today, but you might've seen advertising for them on other social media forums. I've provided images and links to the ones I know are available. The links are attached to the names of the companies.
We R Memory Keepers
:: Re-branded all their products and have now included sleeves that are like envelopes. Their new line for these products is called "Albums Made Easy System". No images online yet :(
American Crafts:: Have teamed up with Becky Higgins and in April will be releasing box programs with flashcards, paper pads, albums in 12x12 and an odd size of approx. 9x11. The photo sleeves that have the different quadrants, pockets and sizes like We R and Simple Stories have now.
Bo Bunny:: Misc Me line has binder albums that are 8x9 with calendar dividers, note cards, a variety of flashcard pieces with a variety of options. They're starting off with 3 different themes and will likely expand in the future.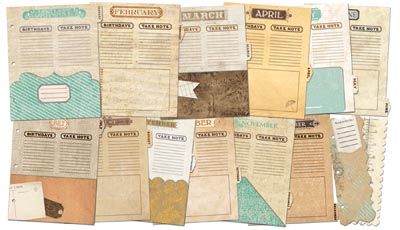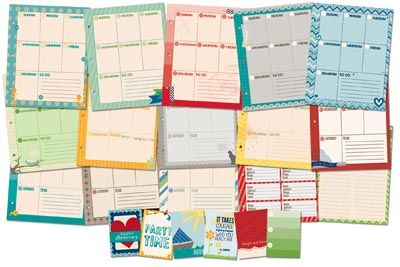 October Afternoon
:: Also joining the club with "Daily Flash"...check it out on their blog. They have a sneak peek of it up there now.
Simple Stories
:: Currently the leader in this area along with We R Memory Keepers. To expand on their
Sn@p
line they're adding higher quality albums in a variety of sizes.
Echo Park
:: Their Photo Freedom line has been doing well and having their sleeves fit the We R binder albums has helped them sell their lines. However, the idea with all the different flashcards etc. puts them on this list as well.
So, which company do we think got it right? Each one has a uniqueness that represents their brand, but does it out-do what we already offer? (Currently we have Simple Stories and Echo Park, like everyone else :)))
Let us know what you think...leave a comment here or visit us on
Facebook
to see what everyone else is saying. Thank you for you input. I look forward to seeing what you're thinking :)